Welcome to The College of Physicians of Philadelphia, where your event can take its proper place in history.
This beautiful New Beaux-Arts style building, constructed in 1908 and designed by Cope and Stewardson, has the unique distinction of being home to the oldest medical society in the country (founded in 1787) and the renowned Mütter Museum.
As guests walk inside, they are surrounded by grandeur and elegance, and greeted by Aesculapius – the Greek god of medicine. The magnificent columned Marble Rotunda, with its view of a classic grand staircase, sets the stage for any occasion.
With its historic ambience and stately architecture, it's no wonder that the College – located in Philadelphia's charming Rittenhouse-Fitler Historic District – has been the chosen setting for a diverse range of memorable events.
We look forward to welcoming you and your guests. Please contact our Facilities Rental Office at 215.399.2247 or via email to learn more about the College's unique spaces and the full range of services we provide.
The College is Wheelchair Accessible. ADA Compliant.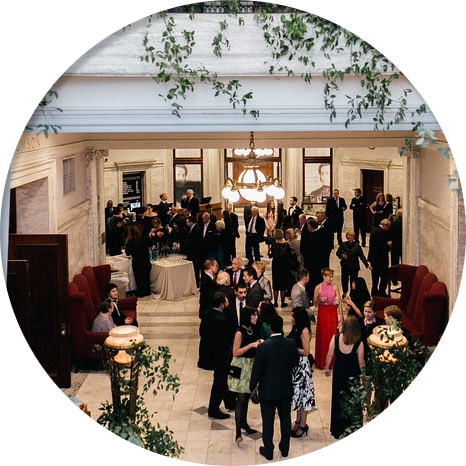 Where do my guests park?
Events CPP Admin
2020-03-19T16:12:59-04:00
Your event specialist will discuss valet parking options with you.There are also several lots nearby. Limited street parking is available. Public transportation options and more detailed parking information is listed under services.
Brides, Bubbly and Brunch
Catering By Design was fantastic to work with. Diana, our event coordinator, was organized, experienced and flexible. We had total confidence in her and her team. She was very responsive to emails and met with us multiple times to go over details. My husband and I added a few additions to the menu and bar to personalize our wedding all of which was done with ease and upfront pricing. The food was so delicious. Not your typical wedding dinner. There is craft and care that goes into everything from the passed hors d'ouevres to the main dish. People are still talking about it! Catering By Design is a well-oiled machine. They run multiple events a year, but you won't get a generic ballroom event. Every detail can be tailored to your desire and the space at The College of Physicians is so fantastic is speaks for itself.
The College of Physicians of Philadelphia
19 South 22nd Street
Philadelphia, PA 19103
Contact
Michael D. Mitloff
Phone: 215-563-2246
Email: mmitloff@cbdevents.com